How to Deal with Mold in Your Office Building
9/6/2022 (Permalink)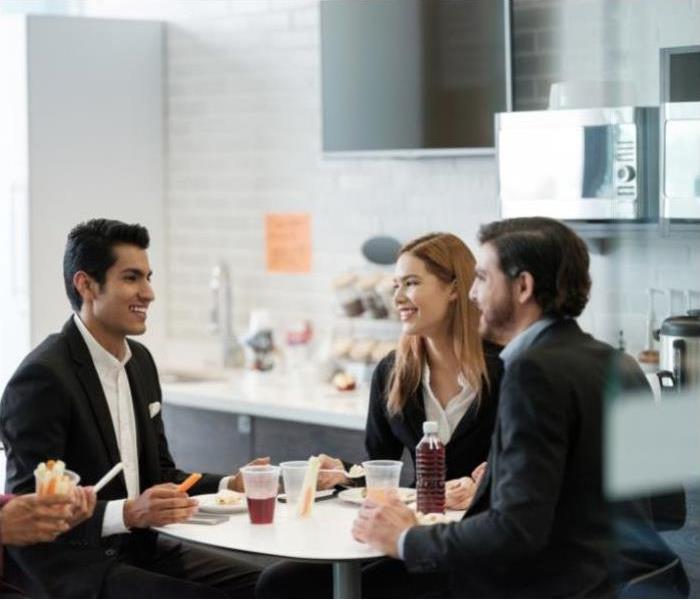 Everyone gets the occasional mold spot in a bathroom, but when you find ongoing mold growth in your office break room or another part of your building, it can be troubling. It has been a wet monsoon season, and rain is still in the forecast, which brings a higher level of moisture to the air. Mold thrives on moisture, and it is more likely to grow in damp conditions. Since mold spores exist everywhere, even in the cleanest office buildings, it is not too difficult for mold to grow and quickly become an issue in your office. If you find mold growth at your place of business, do not try to clean it yourself; it is best to contact a professional to manage it to address not only the growth but the cause as well. Many people choose to ignore the issue and let it progress or try to deal with it on their own. If you find mold, here is what to do and what to avoid. You will save time, money, and stress by approaching mold issues the right way.
Do not wait for mold to go away on its own
One of the most important reasons to call a professional mold remediation service like SERVPRO for mold damage to your office is that the mold problem cannot be solved without intervention; it won't simply disappear on its own! The mold-impacted area must be dried, cleaned, sanitized, and possibly repainted or rebuilt if the mold infestation is substantial. If these actions are not done, mold spores can continue to grow and spread to other parts of the office, oftentimes completely undetected as it grows behind walls and other dark, out-of-the-way places in your office that are not noticed until the damage is substantial. Such undetected growth can lead to real damage to your office, making remediation more difficult. The best time to call SERVPRO of Phoenix is when the damage is relatively new to keep damage and expense at a minimum.
Handling mold yourself is not a good idea
Trying to eliminate mold damage on your own can be detrimental to the office. Even if you remove all visual signs of mold in your office, it is almost impossible to eliminate airborne mold spores and hidden pockets of growth without advanced tools and cleaning products. SERVPRO uses moisture detection tools to identify patches of mold behind walls and surfaces and air scrubbers to filter as many spores out of the environment as possible. When business owners try to address mold growth on their own through cleaning, they are only going to eliminate the mold growth they see, leaving undetected mold spores behind to continue to grow unnoticed until the damage is substantial. What you do not see is just as damaging as what you do see.
Ongoing odors need to be treated
After a mold colony is removed, strong, musty odors it may have caused can remain in an office if not properly addressed. These odors can take a long time to leave your office on their own and can grow unpleasant if not handled correctly. SERVPRO technicians use industrial-strength chemical fogging machines to neutralize odor molecules, even if they are implanted deep within the walls and floors. Finding and eliminating mold is only part of the problem if your office experiences mold. Odor removal is a crucial step that should not be overlooked. SERVPRO of Phoenix can help.
Contact us for help
SERVPRO of Phoenix specializes in mold damage remediation services and odor removal for your business. For our assistance with mold growth and odors in your office, give us a call at (480) 503-2090. We are available 24/7 to help you with your mold issues and get your office back to normal.